Today we are officially launching our new tool, aimed at assisting guilds with advertisement and recruitment, and perspective members with searching for a guild. Our guild profile tool will allow guild leaders to create a guild page for their guild, with information aimed to provide an overview of their guild.
To get started creating a page, go to the Guild Add/Edit page.
To look through guild pages, go to the View All Guilds page.
Guild Pages Overview
There are three primary sections to the guild pages, to give a complete overview to your guild. The three sections are About, Recruitment, and Events. With all the information completed, any perspective recruit should be able to come away with basic information about your guild, what you are looking for, and what your guild has accomplished.
About Section
The about section allows for guild leaders to describe their guild, using the text area. This description can be as short or as long needed to describe what your guild is about.
In addition, general information about the guild will be displayed to the right. Including, guild server, primary guild speaking language, guild size, reputation bonus, expierence bonus, guild leader, guild region, guild language, and a link to your guild website, if applicable.
For guild region, this is not necessarily the server's region, but where a majority of the members reside. If a perspective member is looking for a guild within a certain region, due to play time, this will help them do that.
Recruitment Section
The recruitment section provides an overview to what a guild is looking for, and any requirements for joining. On the side, minimum accepted player level, item rating, if required, additional guild officers, and a direct link to a guild application.
Specific classes being recruited will change based on faction. The example below shows for a guild that is set as both factions. If your guild is Republic or Sith only, those are the only classes that would be displayed.
Finally, there is a section that allows the guild page creator to provide extra information for a potention member. This could include additional recruitment requirements, process, operation loot rules, etc. This section can be as little or as long as required.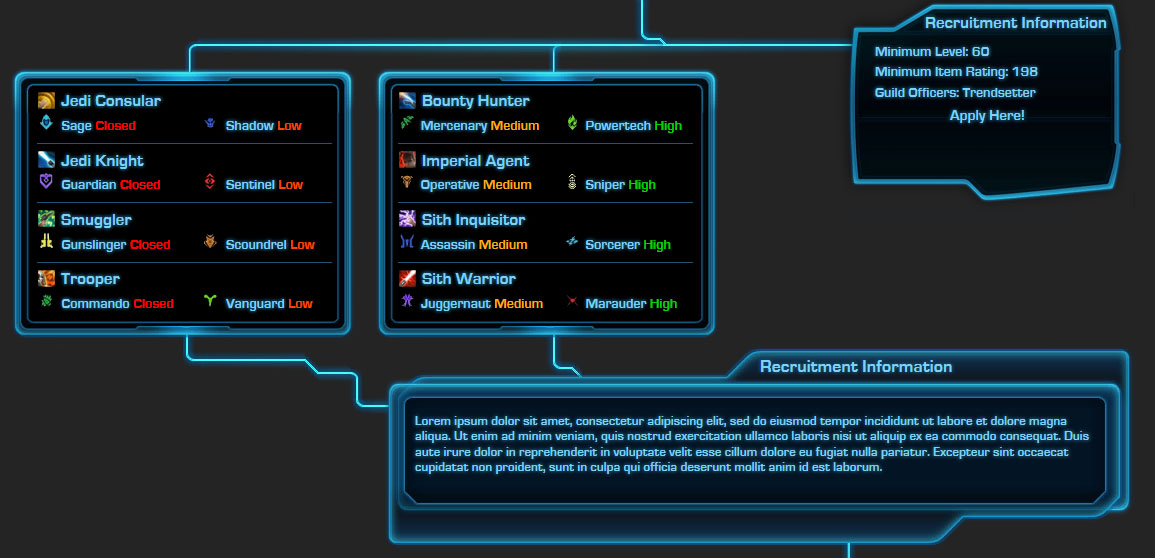 Event Section
This last section is designed to provide an overview to the events that a guild does. There are options under the events for Guild Meeting, Flashpoint, Officer Meeting, Operation, PvP Event, and Server Event. A general overview will be displayed to the left, and more detailed information expanding to the right. Only days selected for events will be displayed.
The detailed boxes to the right will display the start and end times. For guilds set as Both Factions, there is an option to display an icon noting if the event is for Republic, Sith, or Both. If a guild is Republic or Sith only, these icons will not be displayed.
For the events section, it is meant to provide an overview to what your guild does on what days. It is understandable that some guilds do multiple events per day. Given the page designer, undfortunately, there isn't a feasible way to have multiple options, without requiring exponental more variables across all of the pages and editor, that would increase load times on these pages. If your guild falls under this situation, the best recommendation is to display your most promenant event, and detail additional events within the Recruitment Information text area.
At the bottom, you can display the progression of the current expansion, including displaying boss kill screenshots. Those screenshots will display to the right within the box area.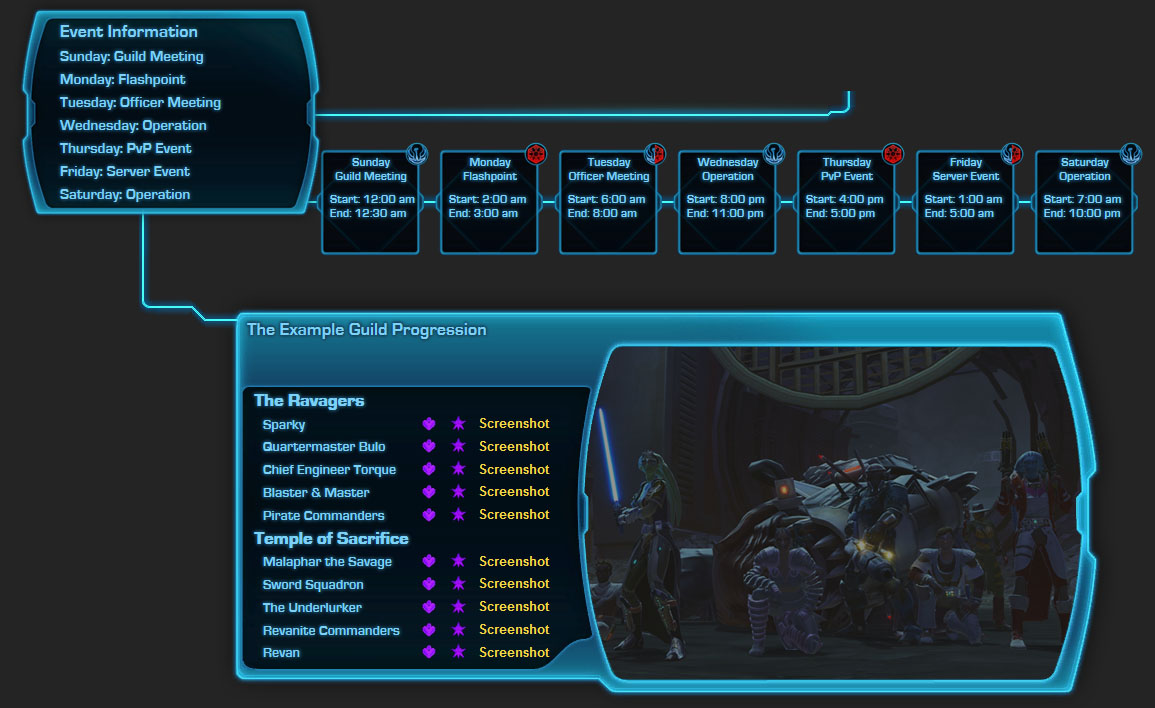 Suggestions
If anyone has suggestions about these pages, leave a comment below. During limited release testing, I received several suggestions that made it into this now live version.