Details

Category: SWTOR News
Last Updated: Wednesday, August 5th, 2015
Published: Tuesday, August 4th, 2015
Written by Chemayla
Keep checking here for news on EA Gamescom Events.
EA Gamescon Press Conference - SWTOR Segment
It was a short, 3 minute, presentation given by James Ohlen which basically recounted what we already knew about the Knights of the Fallen Empire Expansion. You can read up on all the official details about the KOTFE expansion here.
One new detail, however, is that if you subscribe by August 10, you can still get Nico Okarr as a companion when KOTFE comes out and get early access. So they've extended the timeframe in the hopes of getting more people to subscribe.
James finished off the presentation by showing off a new, 1 minute long, Gameplay Trailer - "Become the Outlander".
Knights of the Fallen Empire – "Become the Outlander" Gameplay Trailer
Trailer Voiceover/Dialogue
Valkorion: 'You come all this way? What do you want?'
Outlander: 'I want you, to answer for your crimes!'
'I am a Veteran of the Great Galactic War,
I've carried many Titles into combat
Only one matters now,
Outlander'
Zakuul Knight: 'Outlander, Surrender!'
Lana Beniko: 'The Empire and Republic have all but Fallen,''
You're our last hope.'
Outlander: 'You want to fight?! I'm ready!'
Valkorion: 'You do not have to stand against me.'
'Instead, I will share all of this with you,
If you will only kneel.'
Trailer Screen Grabs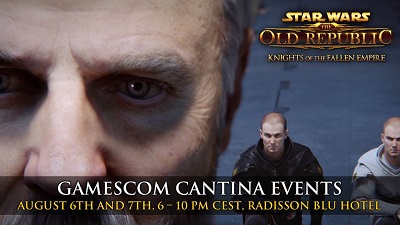 Notes: