Details

Category: Achievement Guides
Last Updated: Friday, April 17th, 2015
Published: Sunday, February 22nd, 2015
Ord Mantell is the starter planet for Smuggler and Trooper characters. There are several achievements that require players to be a Smuggler or Trooper to obtain them. Following this guide will award you with all of the achievements on Ord Mantell.
Quick Info
Total Points: 255
Total Cartel Coins: 40
Bestiary Codex: 3
Datacrons: 3
Heroic Enemies: 4
Heroic Missions: 3
Loremaster Codex: 4
Location Map
Beastmaster of Ord Mantell
---
Gapillian Grazer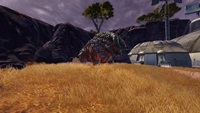 The slow-moving, gentle-tempered Gapillian grazers are herbivores that range across Ord Mantell's grassy plains. Although their massive curved tusks and rock-like hides give them a fearsome appearance, these beasts are among the most peaceful creatures inhabiting the planet. This does not mean they are entirely harmless, however.
Few things are more terrifying than a Gapillian grazer stampede at the height of mating season. With so many of these beasts grouped together, a single spooked grazer can initiate a charge capable of leveling a small town. Unwary travelers caught on foot during these catastrophic panics are rarely seen again.
Razoronn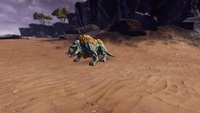 One of the only carnivores capable of taking down a Gapillian grazer by itself, razoronn beasts are nearly three meters in length and weigh over a thousand kilograms. It is no exaggeration to state that these tusked, fanged beasts present a serious threat to anything smaller than an armored shuttlecraft.
During the early settlement of Ord Mantell, a small farming convoy broke down on a remote plain at nightfall and fell prey to a razoronn pack. The curious predators began "investigating" these intruders in their hunting grounds. The farmers' landspeeders offered no shelter from the ravenous creatures. By morning, all but one of the farmers had been dragged away.
Savrip
The savrips' bestial appearance leads many to dismiss them as nothing more than monstrous hulking predators that attack on instinct. This is far from the case, as anyone who has gotten close to a savrip can attest. Would a mindless animal really wear a tanned hide and belt made from Gapillian grazers?
Despite their brutish and primitive appearance, savrips are an intelligent species capable of communication. Unfortunately, for the average Ord Mantellian, savrips are actively hostile to other life-forms. Previously content to remain in their home territories, recent surges in savrip attacks have led authorities to speculate on a separatist-savrip alliance, but these claims remain unsubstantiated.
Datacron Master of Ord Mantell
There are three datacrons located on Ord Mantell. These datacrons are Aim +2, Presence +2, and a Red Matrix Shard.
Datacron 1
Red Matrix ShardCoordinates: 779, 134
To obtain this datacron, go to Falks Reach Speeder. From there, go across the water, and then turn left and go under the broken bridge. Continue along the beach edge. until you reach a small camp. The datacron is located in the center of the camp, in a crater.
Note: Captain Ethen Remak is guarding this datacron. Defeating him is part of the Liberator of Ord Mantell achievement.
Datacron 2
Aim +2Coordinates: -656, -574
This datacron is located on Savrip Island. Savrip Island contains many strong and elite enemies, as this is an area with several heroic missions. To obtain this datacron, you will need to go around to backside of the island and go up the ramp. Once at the top, turn right and go across the rock bridge. Follow the path, to the end, and then go up the hill to the datacron.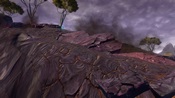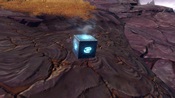 Datacron 3
Presence +2Coordinates: -977, -206
To obtain this last datacron, go to Volcano Camp Speeder. From here, go southwest and follow the beach around the volcano. This is a bit of walk, but eventually will come upon a particular rock formation. Go behind this rock formation and there will be the datacron.
Droid Reconnaissance: Ord Mantell
Droid 1
The first droid is located in the southeast corner of Fort Garnik, going up the long flight of stairs to the top. Once at the top, turn to the right. The droid is floating over a tower.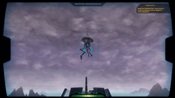 Droid 2
The second droid is located just outside the entrance to the Separatist Stronghold at the top of the volcano.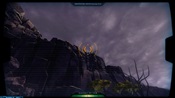 Hero of Ord Mantell
Hero of Ord Mantell requires that players complete 3 heroic missions. All 3 of these missions are located at Savrip Island, making them quick to complete at one location.
Buying Loyalty
Buying Loyalty
This mission is started by Gizmel in Oradam Village.

He will send you to Savrip Island to meet a droid about a shipment from a ship that crashed on the island.

By selecting the Light Side choice when talking with the droid on Savrip Island, the codex Underworld Influences, for Loremaster of Ord Mantell, will be awarded at the end of the mission.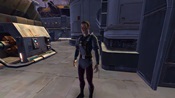 Destroy the Beacons
Destroy the Beacons
This mission is started by Travi Pott on top of the hill that overlooks Savrip Island.

She will send you to Savrip Island to take out 4 beacons located on the island.
Cutting off the Head
Cutting off the Head
This mission can be picked up at any Republic Comm Terminal on Ord Mantell. There is one located in Oradam Village and at the Spaceport in Fort Garnik.

This mission requires you to destroy 5 Savrip Chieftain.
Liberator of Ord Mantell
Liberator of Ord Mantell requires players to defeat 4 unique elite enemies located on Ord Mantell.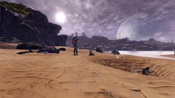 Loremaster of Ord Mantell
To complete Loremaster of Ord Mantell, players must find all 4 lore objects on Ord Mantell. A Smuggler or Trooper are required for the lore objects of 3 of these lore objects, as they are awarded through missions only available to those classes.
Refugees of War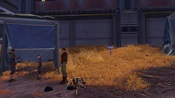 Ruled By Corruption
Split by Rebellion
Underworld Influences
---