Details

Kategorie: Achievement Guides
Zuletzt aktualisiert: Donnerstag, 07. Mai 2015 11:00
Veröffentlicht: Sonntag, 22. Februar 2015 22:30
Geschrieben von Ohnoto
Tython is the starter planet for Jedi Consular and Jedi Knight characters. There are several achievements that require players to be a Jedi Consular or Jedi Knight to obtain them. Following this guide will award you with all of the achievements on Tython.
Quick Info
Total Points: 240
Total Cartel Coins: 40
Bestiary Codex: 6
Datacrons: 3
Heroic Enemies: 4
Heroic Missions: 1
Loremaster Codex: 4
Location Map
Beastmaster of Tython
---
Guid
Guids are hoofed quadrupeds indigenous to Tython. Notable for their muscular forelegs and the distinctive tufts of hair on the shoulders, back and chin, they are typically encountered grazing alone or in small herds. Guids are not particularly aggressive, but if threatened, they are capable of causing injury or even death with their massive forelegs and powerful jaws. Attempts to domesticate guids have proved unsuccessful due to their stubborn and occasionally irritable nature.
Jedi Master Silvarte has taken to labeling Padawans with a particularly lumbering lightsaber stance as devotees of the "Form of the Guid." At least one of these Padawans--since proclaimed a full Jedi Knight--has taken this mild insult to heart, developing several lightsaber techniques inspired by the study and observation of these strange creatures. Master Silvarte considers this a mark of his success as a teacher.
Datacron Master of Tython
There are three datacrons located on Tython. These datacrons are Endurace +2, Willpower +2, and a Blue Matrix Shard.
Datacron 1
Endurance +2Coordinates: -34, -102
This datacron is located at the mouth of a cave on top of a cliff, which can be seen from the road going towards Forward Camp. Starting at the Forward Camp, head southeast out of the camp. Follow the road around to where the road splits.
There will be a ravine to the left. Drop down into it, the cave entrance is towards the west. Go all the way through the cave, which exits out to the datacron location.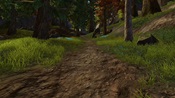 Droid Reconnaissance: Tython
Hero of Tython
Hero of Tython requires that players only complete 1 heroic mission. However, this mission is only available to Jedi Consulars and Jedi Knights.
Chamber of Speech
This mission is started by Do Zonn at Elarian Trail Speeder, near the Ruins of Kaleth.

You will need to go to a cave at the far the west side of the Ruins of Kaleth.

After collecting the Power Cells, from droids within the cave, proceed to the console at the rear of the cave.

The console is undergoing a system failure. During the interaction with the console, you will be presented with a Light Side and
Dark Side choice about preserving one of two histories before the console shuts down. The choice will result in 50 points towards the selected alignment.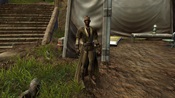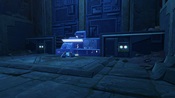 Liberator of Tython
Liberator of Tython requires players to defeat 4 unique elite enemies located on Tython.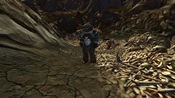 Loremaster of Tython
To complete Loremaster of Tython, players must find all 4 lore objects on Tython. A Jedi Consular or Jedi Knight are required for the lore objects of Holocron and Jedi Weapons, as they are awarded through the class stories of these classes.
Holocron
Jedi Weapons
Jedi Knight: Rewarded during the Weapon of the Jedi mission, after crafting your lightsaber.

Jedi Consular: Rewarded during the The Forge Mission, after crafting your lightsaber.
Rebuilding the Jedi Order
This lore object is located inside the Jedi Temple. The object is a chair within a study room.
Rediscovering Tython
This lore object is located in The Gnarls. The object is at the base of an ancient statue.
---
Holocron
Holographic chronicles--more commonly called "holocrons"--are sophisticated data storage devices capable of cataloging vast amounts of complex information within their crystal lattice structure. Frequently used by both the Jedi and the Sith to preserve the wisdom of ancient Masters and Sith Lords, holocrons can only be accessed by Force-sensitive individuals. Some are "merely" repositories of incredible lore, while others possess virtual personalities of their own, modeled after their creators.
Many believe it was actually the Sith who first developed holocron technology, as the oldest known examples are all relics of the dark side. Interestingly, Jedi holocrons take the form of a glowing cube, while Sith holocrons are usually pyramid-shaped. Some scholars claim the six-sided cube of the Jedi represents a more modern and advanced version of the original four- and five-sided pyramids favored by the Sith, though hard evidence for this idea is scarce.